Texas A&M University Shooting Leaves Three Dead
A shooting at Texas A&M University in College Station today has left three people dead, with the alleged killer – an unidentified man in his 30s – among them.
Scott McCollum, assistant chief with the College Station police department, confirms that one of the deceased is 41-year old Brian Bachmann, a constable in Brazos County.
"He was a pillar in this community, and it's sad and tragic that we've lost him today," McCollum told reporters.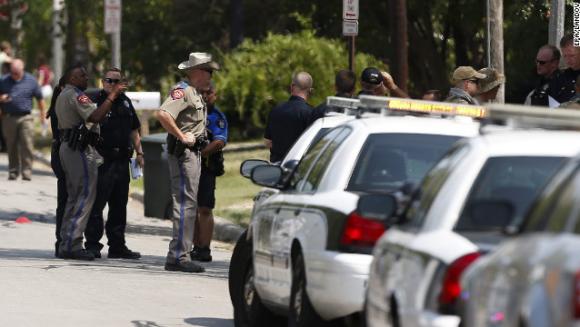 The incident took place a few blocks from the school's campus. Officials report that four others suffered injuries in the shootout, including three law enforcement officers. None of those injuries are considered life-threatening.
McCollum said police received a call around 12:10 p.m. from "a citizen" who reported shots fired in a residential area just south of Texas A&M. The constable had reportedly gone to a residence there to deliver an eviction notice.
A Code Maroon was subsequently issued, warning pedestrians to stay away from the area in question because an "active shooter" was on the loose.
At that point, approximately 12:29 p.m., cops arrived to find the constable's body in the yard of a home.
They "received fire from the suspect inside … took cover and defended themselves," McCollum said. "They ended up shooting the gunman."
The third victim is an unidentified 65-year old male who has simply been described as a "civilian bystander."
Visit link:
Texas A&M University Shooting Leaves Three Dead