Aly Raisman's parents may be a little over the top (okay, more than a little), but it's hard to blame them for celebrating her Olympic gymnastics glory.
Well, unless you're this grumpy old guy.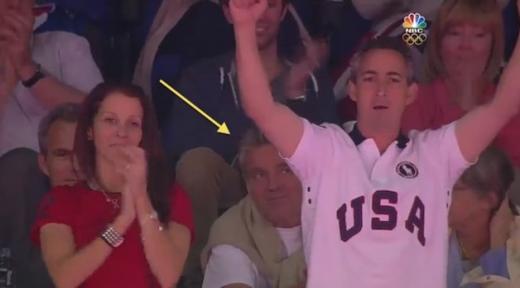 In defense of Aly's parents, they are as loving, supportive and enthusiastic as you can get. No one disputes that, some just think they go overboard.
Yet even folks put off by the spectacle Raisman's parents put on should give them a pass them for cheering Aly's floor exercise gold medal Tuesday.
Two gold medals and one bronze for a teen who was an afterthought on Team USA behind Jordyn Wieber and Gabby Douglas? Go crazy, Raismans!
One "gentleman" at Greenwich Arena disagreed, clearly. After unluckily getting a ticket right behind them, he was hilariously annoyed throughout.
When NBC cameras first cut to him, he stared at Rick Raisman, shaking his head in disgust. A few seconds later, he actually told him to sit down!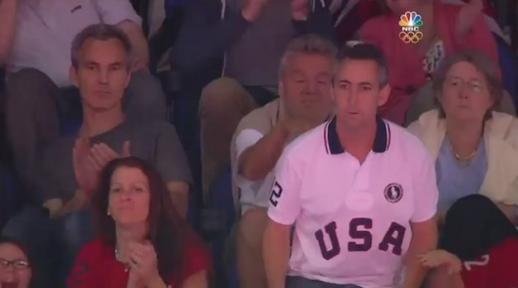 Anyone who's ever sat behind some guy who stands and yells at inopportune moments can sympathize here … but in this particular case, come on.
First of all, the old man had to have known who they were – Aly Raisman's dad in particular does not shy away from making his presence felt.
Second … what's that guy trying so hard to see? He's seen above telling Rick to sit down AFTER ALY'S ROUTINE. That's just going out of your way to be a jerk.
Unless he has a surprising affinity for watching judges confer over decimal points and making questionable scoring decisions, what's the big deal?
This guy probably tells kids to SHUSH at the movies … during the end credits.
See original here:
Aly Raisman Parents Told to Sit Down By Grumpy Spectator Guy